In conjunction with this review, I'm having a giveaway for a Rocking Pony shirt on my blog! Go there for details, and leave a comment there to enter!
A couple years ago, I made online friends with
Karen
and subsequently discovered her Etsy store:
The Rocking Pony
. What a great discover that was! I could go on and on about how awesome Karen is as a person, but since I'm doing a review of her site, I'll try to stick to Karen's customer service and work.
Over the years, I've ordered I think 4 shirts from her, including two for gifts to my niece and nephew, and I've gotten one shirt for free. Karen worked with me to be sure she had the right size and color, and that I was fine with the kind of shirt she had (an adorable hooded t-shirt, instead of a regular t-shirt).
The free shirt I got was because she was trying to do more shirts for girls and was making some samples for pictures on her site, but she didn't want the shirts to go to waste, not having any little girls herself. So on her blog, she offered free shirts to those who commented saying they wanted one. She is thoughtful and kind, and she provides the kind of customer service that seems to be lacking in most places today.
As for the shirts themselves, I've loved every single one of them. They are all hand-made shirts, well made, unique and high quality. They are also absolutely adorable! Check these out: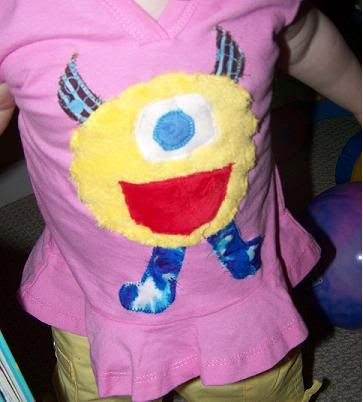 That is Niles, and there's
a cute story behind his creation
. That's the shirt I initially fell in love with.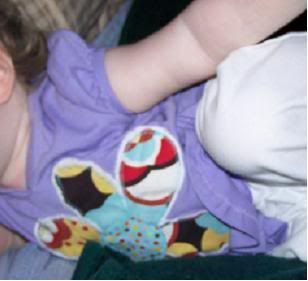 Although a little blurry and not a great angle (it was at a time when she rarely held still for any pictures), this might be my favorite shirt I've gotten for my daughter. It's such a cute flower, and I love it on my favorite color purple.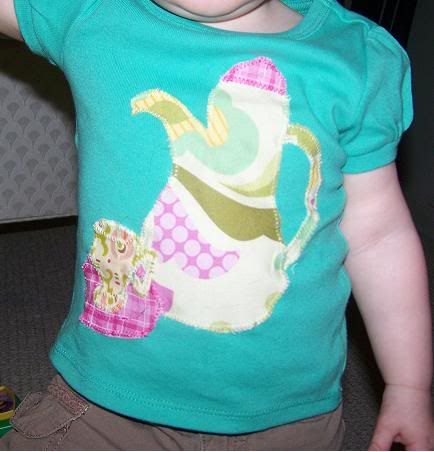 This teapot and tea cup shirt is the one I got for free. Oh how I wish it still fit my daughter, because she and I both loved it.
I have had wonderful experiences with
The Rocking Pony Etsy store
, customer service and the shirts themselves. I've loved the shirts for my daughter (and soon my son will be getting one) and for gifts. Karen also makes bibs, blankets and other things. You should really go check out her site. And if you don't believe me, you can read all the
amazing feedback she's gotten on Etsy
!
Disclaimer: When discussing doing a giveaway on my blog with Karen, she offered me a free shirt from her store for each of my kids. Because I love her stuff so much, I am taking her up on the offer. Karen did not know I was planning a review of her store now that I've started writing reviews on my review site again. When I told her, she didn't offer me anything in exchange for the review. My review was in no way influenced by the offer of free shirts in conjunction with this giveaway. I would not be doing this giveaway if I didn't love her and her store so much. I think that covers everything.